Dealing with a Lonely Dog
Our dogs are pack animals. They're highly sociable creatures with a genuine need to socialize and interact. Because we humans have done such a bang-up job in domesticating our canine friends, socialization with other dogs isn't enough for your friend: you are the center of your dog's world. She needs to spend time with you.

Of course, this is sometimes easier said than done. Life, for most of us, is pretty busy, and at times it's difficult to find genuine pleasure in performing the most basic of caretaking tasks for our dogs. When time is short, responsibility becomes a burden.

It's even worse when added responsibilities or increased demands on our time begin to detract from the quality of the time we do spend with our dogs. If other stresses are weighing heavily on your mind, everyday pleasures with your dog can morph from a joy into a headache – the half-hour walk after work is just one more thing to get through, rather than an opportunity for you both to unwind and spend some time together in mutual, tacit admiration of the natural world.
Whether we like it or not, the lifestyles that we choose (to a certain extent, anyway) to put ourselves through – a general dearth of time, moderate to high stress levels, job anxiety, shifting personal commitments – affect our dogs as well as ourselves. Sensitive pooches can become so negatively impacted by the less-than-positive frame of mind held by their owners that they themselves become depressed and anxious. Other, more well-adjusted dogs suffer through isolation: when obligations are pressing, the twice-daily dog walk can be the easiest thing to relegate to the back of the line (your dog can hardly raise his voice in outrage, can he?).

Making time for our dogs isn't always as easy as we would like it to be. But it doesn't have to require a huge input of time or a Herculean amount of energy: there are ways that we can include our dogs in our lives without spending minutes and hours that we don't have.

Here are a few suggestions:
Bring her along with you. When you're running errands – picking up the mail, dropping children off to music lessons, soccer, and Little League, stopping by at work – your dog will jump at the chance to come along. Even if she stays in the car, the opportunity to get out of the house and enjoy a change of visual and olfactory scenery will be genuinely welcomed by her – and it's a good way for the two of you to spend some casual one-on-one time together. If your errands involve other people (ferrying kids around, picking up a spouse, visiting a friend), accompanying you can go a long way towards meeting her social requirements for the day, too. (Tip: if you're going for the Big Grocery Shop, or plan on doing something else that requires an extended absence from the car, best to leave her at home – any more than half an hour alone in the car is pushing the boundaries of responsible ownership for most dogs.)


Invite her into the bedroom. You don't have to ask her up on the bed with you; she can sleep on her own dog bed, either in the corner of the room (most dogs prefer to sleep with something at their backs) or next to your bed. This is a fantastic way of spending "down-time" with your dog (you're both enjoying the same pastime in an undemanding way), and of increasing your bond, too. Dogs like to sleep with their pack (that's you!). As pack animals, they're hardwired to enjoy close contact with others during their most vulnerable hours. It reinforces their sense of togetherness and security. By allowing your dog into your bedroom at night, you're fostering closeness with your friend. And it's easy, too!


Spend time in mutually-enjoyable activities. Walking the dog becomes a chore when it's boring – if you're enjoying yourself, you'll be more likely to devote more time to it, which is good news for your dog, yourself, and your relationship with each other. Don't feel like you have to limit yourself to the same old twenty-minute circuit round the park – break out and explore new territory. As much as dogs love to reinvestigate familiar turf, they appreciate new sights and sounds too, so try the riverbank, the dog beach, a different park, dog exercise yards (you get to chat with other owners, too, while your dog makes new friends), hill trails, or go for a walk downtown – with your friend on a leash, of course.


Perfect the art of multi-tasking. Whenever I'm cooking dinner or reading a book, my Rottweiler plumps himself down about two feet away from my ankles and stares at me dolefully from under wrinkled, upslanted brows. This used to bother me: I could almost sense the waves of silent accusation wafting off him. "Why aren't you playing with me?" I felt like he was asking. "How come whatever that is gets your attention when I don't?" As much as I love him, I still feel that I'm entitled to my one or two chapters a night (and a well-cooked dinner); so I decided to counteract the tear-jerking expression on his face by learning to multi-task. So now, cooking time is also training time: I use the momentary hiatus in between stirrings and choppings to practice Sit and Down. Reading time has become read-and-cuddle time: we sprawl on the couch together, I get to relax and read my book, and he gets his tummy rubbed while he snoozes. If I had a TV, I'd use my TV-watching time for grooming time, too.


Counteract the "one-man dog" tendency. If you live in a multi-person household, it makes things easier on you if you can share the responsibility around a bit. It's healthier for your dog, too – the more she interacts with the people that she lives with, the better. You can share responsibilities like walking, playtime, feeding, and grooming: the more social stimulation your dog gets, the happier she'll be. If you have children in the household, the amount of responsibility they get is really best decided on a case-by-case basis: some younger children are perfectly OK to walk the dog, but some can find the experience traumatic and scary (which makes it unsafe for the dog, too). As a general rule of thumb, before allowing a child out of doors and unsupervised with a dog, make sure you're OK with how the dog and the child interact. The dog should obviously know that the child "ranks" above her in the social hierarchy of the household, and obey her commands reliably; the child should be able to handle herself confidently with the dog, and know the basic rules of dog-walking etiquette (leash-laws, poop-scooping, dog-on-dog social protocol, and so on).
Obviously, these tips aren't intended as a substitute for that quality and quantity of time together that your dog lives for – and that makes life as a dog-owner so rewarding and fun, too. Your dog still needs to spend active, focused time with you, in training, playtime, general cuddling/manhandling, and exercise. But with a little forethought and effort, you can go a long way towards ensuring her emotional and psychological welfare without adding too much to your own workload.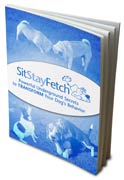 For more information on responsible dog ownership, including detailed advice for handling and preventing problem behaviors, step-by-step how-to's for obedience work and tricks, and an in-depth look at canine psychology and communication, check out SitStayFetch. It's the ultimate resource for dog owners!
Canines of America Separation Anxiety and Behaviors
Separation anxiety is diagnosed in around 10% of the behavior cases referred to Canines of America by veterinarians in the New York City area. When left alone, most dogs find a familiar spot and go to sleep. However, a dog suffering from separation anxiety will become extremely anxious.
Separation Anxiety by Perfect Paws Dog and Puppy Training
Many dogs experience separation anxiety when left alone. They will often whine, bark, cry, howl, chew, dig, scratch at the door, soil the house or destroy your home and yard.
SuperDog Pet Dog Training In Sacramento - Separation Anxiety
Separation anxiety isn't any fun for you or your dog. Household damage is the least of your worries, your pet may actually injure himself during a traumatic episode.
Separation Anxiety
Separation anxiety in dogs is the fear or dislike of isolation which often results in undesirable behaviour. Separation anxiety is one of the most common causes of canine behavioural problems.